BORD FAILTE 4****

Return to regional page
Fishery Cottages are exclusive four-star holiday homes overlooking the salmon pools where the River Drowes enters the Atlantic Ocean. There are spectacular views from the most southerly point in Donegal. You can choose between a 3 bedroom, with one ensuite OR a two bedroom with both ensuite. They have every luxury including tv and video, dishwasher, wood burning stove, private gym, a drying room for outdoor gear, laundry, barbecue etc. There are also a babysitter service and E-mail and Internet facilities!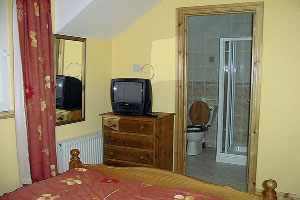 The area : Bundoran, with attractions such as Waterworld, golf, ten-pin bowling, restaurants, bars and entertainment, horse riding, charter-boat fishing, bicycle hire etc. is only 1 kilometre away. The blue-flag beaches of Bundoran, Mullaghmore and Rossnowlagh are nearby and Sligo and Donegal towns are both within a 30-minute drive. You should also visit the beautiful Yeat's country or Donegal Castle while you are here. In Bundoran there are also a cinema and sea-weed baths new for this year
Facilities : The area also offers sailing, diving and coarse fishing. Salmon swim within metres of the houses, on their way to their traditional spawning grounds. Walk, fish from the garden, play golf on your choice of 3 courses, surf the Atlantic swells or be content to relax and watch.
Year 2022 Rates - Prices in / €uro
Period Starting:
Weekly
Bank Holidays
Weekend
2 nts
Midweek
3 nts

Dec 22 - Jan 04

500

On request
On request
On request

Jan 04 - Mar 30

375

300
255
255

Mar 31 - Apr 27

450

300
280
280

Apr 28 - Jun 29

500

300
280
280

Jun 30 - Aug 31

630

On request
On request
On request

Sep 01 - Sep 27

500

300
280
280

Sep 28 - Dec22

375

300
280
280
All rates include VAT at 12.5%
Fuel consumption is metered and charged against a € 150 security deposit.
Click here £=Fr Exchange Rates
To make a reservation or for further information please ring Michael MORGAN
German and French spoken
International Telephone Ireland 00353 72 42 104 Fax 00 353 72 42 105
e-mail : [email protected]
Website : www.fisherycottages.com
Please mention Celtic Vacances when you contact the owner.