Bellingham Castle Hotel
County Louth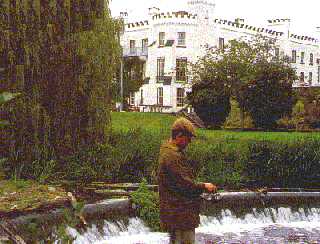 The River Glyde flows through the gardens
The Bellingham Castle Hotel is situated close to the picturesque village of Castlebellingham in County Louth. The hotel is an elegantly refurbished 17th Century castle where you will find the facilities of a modern hotel harmonising beautifully with antique décor and an atmosphere of Old World Splendour.
Whilst enjoying a haven of tranquility, Bellingham Castle Hotel is approximately 15 minutes drive from 2 major towns - Dundalk and Drogheda. Each is a popular shopping area and both are equally steeped in history. Both the city of Dublin and Belfast are within an hour's drive
The River Glyde flows through the gardens of the hotel and is renowned for excellent salmon and trout fishing. Horse riding is available in Bellingham Stables. There are local golf courses and many other sporting activities.
Luxurious en-suite bedrooms have direct dial telephone, remote control and Satellite TV.
The majority of bedrooms have breathtaking views.
En-Suit Bedrooms
With Breakfast
1 person
£40 00
2 people
£70 00
3 people
£80 00
4 people
£100 00
Full Board PPPDay
£49 50<
Evening Meal PP
£14 50
Children Welcome
Babysitting service available
Laundry service available
To make a reservation or for further information please ring Paschal Keenan
International Telephone Ireland 00353 42 72176 Fax 00 353 42 72766
Please mention Celtic Vacances when you contact the owner.